Are You an Investor-Holic?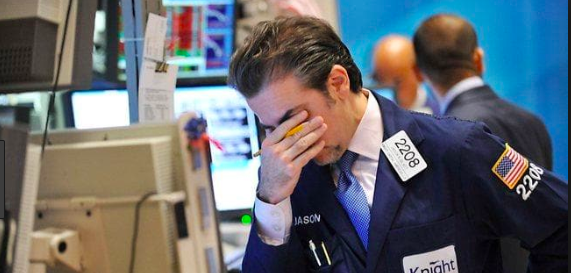 DYLAN: HI, MY NAME IS DYLAN AND I'M AN INDIVIDUAL INVESTOR.
ALL OF YOU TOGETHER: Hi Dylan!
DYLAN: Thanks for inviting me to share my story. I know how limited
email boxes can be so I appreciate the time.
ONE OF YOU: Thanks for sharing.
DYLAN: Uh, yea…thanks again for having me. Anyway, this is a little
odd for me. I've never shared my story at a support group
before… But Marc invited me to speak to ya'll today… I guess he
thought by telling you my story, I may be able to help you see
past the blind bullishness in the marketplace today.
ONE OF YOU: Keep coming back!
DYLAN: Uh, well, thanks… Let's see, where do I start?
For those of you who don't know, I run Behind the Markets.
ALL OF YOU: APPLAUSE
DYLAN: Please, please…you're gonna make me blush…
ALL OF YOU: LAUGHTER
DYLAN: Ok, Ok enough already!
ALL OF YOU: UNCOMFORTABLE SILENCE.
DYLAN: I'm sorry…um, where was I? Oh Yes! Behind the Markets…Well, Behind the Markets is a monthly investment newsletter that gives members objective advice on where they should invest their money.
ONE OF YOU: What's the website?
DYLAN: Oh, Yes…It's..um…www.behindthemarkets.com. But I know we're all limited on time, so let me get on with it…
I started my investing career at a very early age. I don't know…I was probably running away from something or whatever, but for some reason I just took to it.
At first it wasn't too bad.
Sure I read the Wall Street Journal and watched CNBC, but I was in control. I only traded when I thought I could make money.
But, as I'm sure many of you could relate to, my addiction progressed…Before I knew it I was using Bloomberg and pulling all-nighters watching market news…
I couldn't have been more than 19 at the time….(PAUSE)
(DYLAN CHOKES BACK SOME TEARS)
ONE OF YOU: It's ok…take your time…we're here for you.
DYLAN: Thanks…thanks very much… But then it got worse. Much worse.
Pretty soon I actually became part of the herd. Whenever Wall Street became bullish I became bullish.
Whenever Wall Street turned bearish I automatically turned bearish. Right before I hit Rock Bottom I even found myself repeating what the television pundits were saying any time I went to a party.
ALL OF YOU: GASP!
DYLAN: Yea, it was bad. I almost lost everything. My ability to think for myself, my identity….everything…
So I guess that's why I'm really here today. You've all been watching the news recently, right?
ALL OF YOU: YEA!
DYLAN: Then you know what I mean when I say the last few months have seen a big disconnect between the performance of the stock market and underlying fundamentals. In other words, it just seems that most investors are just reacting to the headlines instead of thinking for themselves.
ALL OF YOU: HERE, HERE.
DYLAN: It seems that everywhere I look, folks are ignoring some decent fundamentals. Gosh, one report I read even predicted a 30% drop in the S & P this year! And that was from a "reputable" brokerage firm!
ALL OF YOU: GASP!
DYLAN: So, I guess I'm here today to remind you that sometimes the hardest
thing to do is ignore the headlines and remain faithful to your own investment philosophy.
It's a funny thing but sometimes we as investors toss aside our own hard-earned
experience just because the headlines in the papers or the pundits on television sound like they know what they're talking about.
But most of them don't know squat, really. In fact, the single most surprising
thing I learned during my time on the Street was how little most people working there knew.
(It's kind of like Hollywood that way: 99% of people spend their time dropping the names and chasing the deals and copying ideas created by the 1% running things).
So, as we start to move through 2019, let me share what I'm thinking about the stock market: I'm not thinking about the stock market at all.
Our investment philosophy here at Behind the Markets is completely independent of the direction of the stock market.
Some years the market will go up, other years it will go down and some years it will go sideways. When it goes down there will be more bargains to be had. When it goes up there will be less.
But no matter which way the market goes, nothing much around here is going to change—We're still going to make our money buying great companies at cheap prices.
So whatever your own investment philosophy, I have one big nugget of advice to share with all of you today:
Don't get caught up believing the hype of the headlines: Making investment decisions based on what you read as opposed to what you know is a very fast way to the poor-house.
AUDIENCE MEMBER: What do you mean by "hype of the headlines"?
ANOTHER AUDIENCE MEMBER: Yeah, what do you mean when you say to make investment decisions based on what you know, not based on the headlines you read?
DYLAN: What I am saying is simply to consider the source of the information you're reading or watching.
Many of these people you watch on television are just talking heads who know nothing about investing. Trust me when I tell you this: I know some of them personally. I wouldn't trust a couple of them to valet my car.
ALL OF YOU: APPLAUSE.
DYLAN: Thank you, thank you. Yea, you in the back. Do you have a question sir?
DUDE IN THE BACK: Where can we find out what stocks your buying?
DYLAN: You already have a subscription sir. Otherwise I wouldn't be writing this to you.
DUDE IN THE BACK: Oh, ok, sorry I forgot.
ALL OF YOU: RESOUNDING APPLAUSE.
DYLAN: Thanks for letting me share.
God bless you and your loved ones this year,
Learn From My Most Effective Online Marketing Campaigns & Businesses