What headlines from 9/11 tell us about today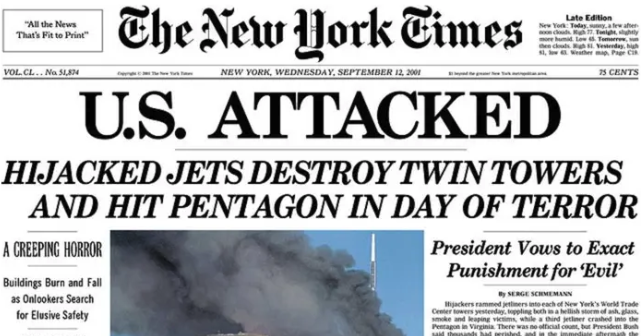 The headlines can be frightening –
"Health officials warn US is at a tipping point." – CNN
"San Francisco Bay under 'shelter-in-place' order" – Fox News
"Tom Brady announces he's leaving the New England Patriots." – CNBC
With headlines like these, no wonder the market is getting hammered. People are scared. And when people are scared, they tend to shoot first and ask questions later. It's understandable.
I'm reminded of the headlines from 9/11.
"America's Darkest Day." – Detroit Free Press
"Americans will never feel safe again." – Washington Post
"Terrorists Attack New York, Pentagon" – Los Angeles Times
Or the headlines from the 2009 financial crisis…
"Crisis on Wall Street as Lehman Totters, Merrill is Sold, AIG Seeks to Raise Cash." – Wall Street Journal
"Citing Grave Financial Threats, Officials Ready Massive Rescue" – Washington Post
"Financial Crisis Upends Presidential Campaign" – Wall Street Journal
I find it helpful to look to the past for guidance. It reminds me that in the heat of the moment, it pays to remember that "this too shall pass."
But most importantly, it forces me to try to picture what things may look like after our lockdown is over. The good news is that some places who took drastic action are getting over the worst of it.
And here were some "good news" headlines from today…
"Dow CEO: China business rebounding as coronavirus outbreak eases" – this is from CNBC today.
"Lockdown of Recovering Italian Town Shows Effectiveness of Early Action" – Wall Street Journal today
And my personal favorite…
"Tom Brady announces he's leaving the New England Patriots." – CNBC today
My point is that the market is going to follow the bad headlines for the time being. That's where we're at today. But let's stay focused on what this looks like in a month from now. That's where we're headed.
"The Buck Stops Here,"
Dylan Jovine
Learn From My Most Effective Online Marketing Campaigns & Businesses